When you move to a new apartment, you might be planning to decorate it as per your preference and liking. At the time of moving to a new apartment, you might not have a good deal of time to follow a lengthy decoration procedure. It is precisely at this point of time when Smart decoration tips come to the rescue. To make it easier for the users to understand, here we have listed five Smart decoration tips when you move to a new apartment.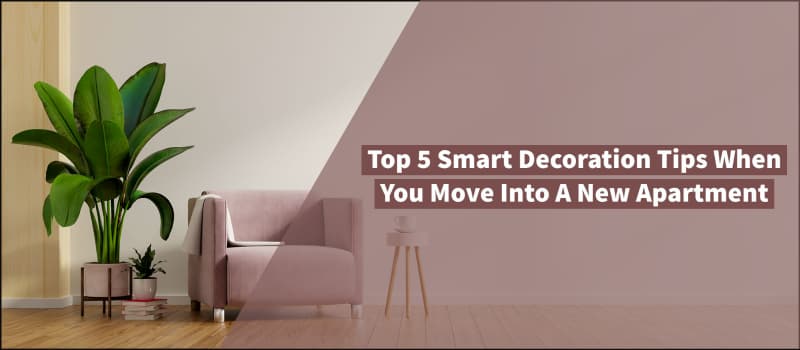 Tip 1 – Proper Organisation of All Things
When you shift to a new apartment, the most important tip to follow for Smart decoration tips is the proper organisation of all things. When you shift, it is of immense importance to keep all things and items at their designated place. This, in turn, makes sure that the apartment is neatly decorated.
Tip 2 – Keep Everything Clutter-Free
When you arrive at your new apartment, cluttering is common. So, if you wish to keep your new apartment nicely decorated and that too in quick time, make sure that you keep everything clutter-free. If you find the task too cumbersome, then it would be a very good idea to get in touch with any professional packers and movers who can complete the task efficiently.
Tip 3 – Curtains Can Play a Major Role
Choosing the right set of curtains has a major role to play when you shift to a new apartment and wish to decorate it Smartly. Careful selection of the curtains, including their colour and design, enhances the overall looks of the house. It is to be made sure that curtains should match the overall décor of the rooms, which gives the rooms a decorative look.
Read More: What are the importance of buying a property and its well-timed dates for the registration?
Tip 4 – Make Use of Smart Storage
Making use of smart storage can be an excellent Smart decorating tip when you shift to a new apartment. You need to be creative about the available space utilisation like foldable or collapsible furniture, wall wardrobe, hidden storage, and a number of others. This, in turn, helps to keep different things out of sight and hence keep them organised neatly as well as aesthetically.
Tip 5 – Create a Gallery Wall
It would be a great decorating idea to make a gallery wall where you can hang different paintings, family photos, or several other hanging decorations. Doing the same would not take up a lot of time but would decorate your new apartment in a significant way.
Following the five Smart decorating tips mentioned above would not only make sure that your new apartment is decorated beautifully but also not consume a lot of your valuable time.