When it comes to packing, the kitchen is by far the most complicated space to handle. Going into the kitchen without a schedule is one of the most common moving errors, but with a little planning and imagination, you can streamline the kitchen packing method and treat it like a pro. Here's how to pack a kitchen without going insane.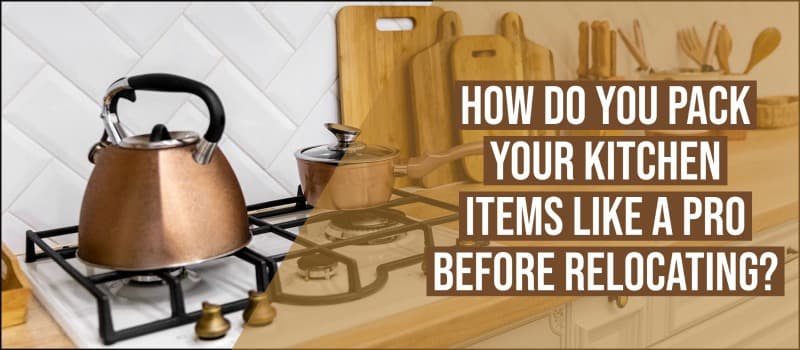 Make A Plan
Before you begin packing, go through your home and remove any things you no longer want or use. Moving is the ideal opportunity to pare down your possessions and lighten your load, so take a moment and go through your belongings and get rid of everything that doesn't have a reason for you. Kitchen equipment in decent condition may be donated.
Collect The Supplies
You'll need heavy duty boxes in a range of sizes, as well as wrapping material, packaging tape, and marking labels, to prepare a kitchen.
Determine What Essentials You Would Need
You don't want to pack the whole kitchen just to find you failed to pack some forks for dinner that night. Make a mental note of the key kitchen things you'll need to have on hand before and after your pass.
Also Read: Groceries You Must Buy When Relocating To Your New House
Start With The Basics
For pots and pans, stack them in a big or medium package, with the smaller ones nestled into the larger ones and a thin piece of packaging paper between them. Stuff paper or dish towels into any holes inside your pots and pans to provide protection.
Glasses and Stemware:
Specialty dividers that fit into regular boxes are your best choice here.
If you're piling plates and cups, wrap each one individually if they're made of breakable materials; otherwise, just place a sheet of wrapping paper in between them. Cover stacks securely with bubble wrap to hold them intact. Pack odds and ends in the room behind your plates and cups.
For Flatware And Serving Utensils:
For the simplest way to pack flatware, simply cover it in plastic wrap and put it flat within a case. Then, on top, place additional serving utensils, either loose or covered in packaging paper (if they're delicate).
Roll each knife in a complete sheet of packaging paper, then cover it in a dish towel and protect the entire thing in a rubber band. Knives can still be stored on their hand, never faced forward.
Food:
Start with the spice cabinet, placing all of your spices in a small package. Cover some spices in glass jars with a thin sheet of wrapping paper. Then go to your pantry.
If you have the initial boxes for your equipment, that's ideal, but if you don't, that's good, too. Pack tiny appliances in as small a package as practicable. Fill in any holes around them with packaging paper to fully lock them in the package and avoid moving.
Miscellaneous:
Other kitchen products, such as mixing cups, cookbooks, baking sheets, oven mitts, and food storage containers, should be packed in the same manner as items from every other room. Hold related products together to make unpacking simpler, and prevent making just one package too large.