How would you choose the appropriate packers and movers, how would you tackle the constant question of charges of packers and movers?
You want to go outside you can book your ride on Ola.
You want your food to come home you can book it on zomato.
You want your groceries to come home you can book them on bigbasket.
But what would you do when you want to shift your home?
Stuck?
If you are planning to choose reasonable packers and movers to shift your home or office, you have few feasible options. But to know how to pick the best of out of it is the challenge you should know to overcome. Relating your home set-up, office or shop there can be different factors that decide the budget of the task. Therefore, choosing the right option depends on the total cost you can afford and the packages offered by movers and packers.
We have made the exact list of parameters that will ascertain the all-out expense of moving your home. It will assist with building up a comprehension of how it all works. Based on the below factors the expense of your move will be determined. These factors fluctuate from the kind of moving.
On the off chance that it's a local shifting, at that point a large number of the variables that may lead you to spend more get diminished from the list. We should examine the elements that will add to the Packers and Movers charges while moving your home with regards to local moving and an intracity shifting.
Local Packers And Movers Charges
| | | | | |
| --- | --- | --- | --- | --- |
| House hold volume | Transport | Packing | Labor | Approx Total |
| 1 BHK | Rs 1000 – 2000 | Rs 1000 – 2000 | Rs 1000 – 1500 | Rs 2500 – 6500 |
| 2 BHK | Rs 1000 – 4000 | Rs 1400 – 3000 | Rs 1500 – 4000 | Rs 3500 – 10000 |
| 3 BHK | Rs 3000 – 7000 | Rs 3000 – 4000 | Rs 2000 – 3500 | Rs 11500 – 15500 |
Optional Extra Services
Ac Installation
LCD
Installation
Geyser
Installation
Rs 1200–1500
Rs 300– 400
Rs 300– 400
Estimated Domestic Shifting Charges in India
Moving Items / Distance
150-300
Km
300-500
Km
500-800
Km

800-1400Km
Few Household Items
3,000 – 7,000
7,000 – 11,000
8,000 – 14,000
10,000 – 16,000
All Inclusive Home Shifting
8,000 – 18,000
13,000 – 25,000
14,000 – 26,000
12,000 – 28,000
1BHK Home
7,500 – 13,000
10,000 – 20,000
11,000 – 22,000
14,000 – 30,000
2BHK Home
9,000 – 15,000
12,000 – 25,000
14,000 – 24,000
16,000 – 24,000
3BHK Home
12,000 – 20,000
17,000 – 30,000
19,000 – 28,000
20,000 – 28,000
4BHK Home
15,000 – 22,000
18,000 – 32,000
18,000 – 32,000
22,000 – 32,000
5BHK or Villa
16,000 – 25,000
25,000 – 40,000
24,000 – 38,000
24,000 – 38,000
Complete Home + Vehicle
12,000 – 24,000
15,000 – 30,000
18,000 – 38,000
26,000 – 40,000
Few Office Items
7,000 – 13,500
10,000 – 22,000
12,000 – 24,000
14,000 – 26,000
All Inclusive Small Office
10,000 – 22,000
14,000 – 30,000
17,000 – 32,000
18,000 – 34,000
Car And Bike Transport Charges
Car/Bike

150-300 
Km

300-600 
Km

600-1000
Km

1000-2500
Km
Car
2,500 – 4,500
4,500 – 7,000
4,500 – 9,000
11,500 – 19,000
Bike
1,500 – 2,500
2,500 – 4,000
4,500 – 5,500
5,500 – 7,000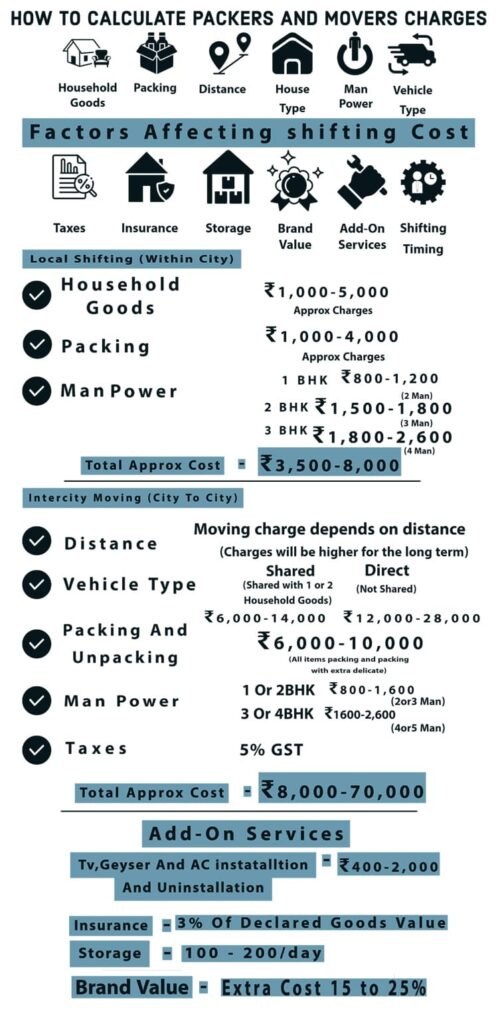 Also Read : How To Reduce Your Cost Of Transportation: Easy Hacks
That is why we are here to help you now.
So, firstly to set up your estimate for relocation, you should explore the prices shifting companies are offering and know the factors to keep in mind while making an estimate:
To choose the best out of so many is a tedious task and to accomplish it, you should know what are the best packers and movers in town. And to judge what is their best potential, it's essential to compare and check their potential based on some of the important factors, that a shifting company must-have. Here are the factors you cannot ignore while picking the best among the rest:
1. Household Goods
Depending upon the volume of goods the trucks are required for the reason. It might go from an 18 feet DCM to a little Tata pro. For local shifting, the expense may go somewhere from Rs 1000 to Rs 3500 for example. For intercity also the cost of these vehicles will fluctuate in like manner.
Packers and movers basically charge you depending upon the transportation, number of goods, weight, loading, and unloading of the articles to the new location. And its obvious for fewer goods, work would be less and for more, it will automatically increase. Therefore, the cost of packing varies from the weight, size, and volume of the goods.
The Packers and movers decide the number of assistants required based on the kind of work, such as packing of goods, loading them from one place to another, transportation, and finally unloading. Hence, charges are completely dependent on the ratio of work that the company has to accomplish in order to settle the complete relocation process.


2. Distance Between The Origin And The Destination
The vast majority of the clients are confounded on if the distance will have many great roles at the expense of moving. Yet, truly it doesn't make any difference in 99% of the instances of local shifting. The distance might be 1 km or 10 km however the moving charge for the transportation will be the same.
In almost all parts across the country, the packers and movers calculate the charges of transportation as per kilometer of the distance between old and new location. And there is no space for negotiation in this department.
Please note that few of the shifting companies that have their own moving fleet can agree on an amount settled after negotiation. The reason is in case they don't have their own fleet, they will hire an outsider truck, car, or carrier and carry forward the procedure. Hence, in such cases, the cost of the transportation will be fixed as it's straight away going to be calculated on the basis of the number of kilometers.
In the case of intercity shifting, it is the city to which you are moving that will decide the cost of transportation.
Read More: How to Pack Without Bubble Wrap: Never Buy Bubble Wrap Again
3. Packing Charges
It is very clear that considering the bad condition of roads in India, The chance to making harm to goods increments relatively. Furthermore, accordingly, all things considered, packing must be done warily. Particularly the furnishings, porcelain things, glass Items Packing, and hardware goods must be packed with the most extreme consideration. Around 30% of the total cost accounts for the packing segment of moving.
To pack goods and articles, a lot of packing material is used, which requires a decent amount of budget. Before packers and movers start with the execution part, they calculate the required amount of packing material and spend a decent amount of money on buying those items.
Although there are different types of packing materials to choose from, as per the quality of the items. And the final call has to be taken from you, as you are going to spend the money and they would be waiting for your confirmation while fulfilling each step. Their duty is to provide you different options and decide the final outcome at your convenience. In case, your budget doesn't allow you to exceed the limit, old cardboard boxes are a good alternative.
4. Labor Requirement
One of the essential prerequisites, when you are moving your house is labor. These are those individuals who will deal with your family unit products from packing until they arrive at your new home. They will do everything, pack, load, and unload for you. In general, it would cost around Rs 500-600 for each individual.
Also Read : Hidden Charges Of Packers And Movers You Should Know
5. Kind Of Vehicle And The Related Cost
The cost identified with transport vehicle relies upon the sort of vehicle you pick, whether you are picking a common or a devoted truck.
A. Shared Truck
If you are choosing a shared truck, at that point, it will be shared between 2-3 customers. The benefit of this method of moving is that it will cost you lesser however the weakness is that it will take somewhat longer.
B. Dedicated Truck
Selecting a dedicated truck is best for individuals who need the transport to be quicker. Here, there won't be any issue of having the sharing with some other party.
6. Vehicle Type
While a shared truck will cost you less and will be shared between 2-3 customers, a devoted truck will cost you somewhat more and will take less measure of time. Our close assessment has uncovered that the greater part of the movers and packers charges are structured of the expenses of transportation. More than half of the all-out expense of moving should be spent on the vehicle.
Read More: How To Be Prepared For Getting The Exact Shifting Cost?
7. Moving Time You Choose
In many urban areas, it is limited to move the vehicle from 8 am to 12 pm in the day and 4 pm to 9 pm time. Furthermore, if you are planning your move during this time, you will be needed to pay a fine as an extra
The costs offered have to go along the budget that you can afford, there are different companies that have various prices depending on the location, time, volume of goods, and distance. So, you have many packers and movers to shortlist the best from, due to competition in the market, you can go with the best prices offered by the shifting company.


8. Unpacking
The Unpacking for the most part isn't made accessible to all destinations. A couple of the trucking organizations complete the undertaking of unpacking and for that, they will charge you extra.
9. Insurance
However, opting for insurance is a discretionary thing. It is consistently incredible to take the plunge when moving to some other city. It will cost around 3% of the complete value of the insured goods. In most cases, it is discretionary however a few companies make it mandatory.
10.Delivery Time period
Whether the new location is near or far, the conditioning of time should not suffer. All deliveries have to be on time without any delay or damage. The process of packing, loading, transportation, and unloading has to be divided into different time slots, which cannot afford to be late as five minutes delay will affect other functions and the overall process will exceed the given time limit. Those who stick to their deadlines are more likely to be impressive for the customers. A famous proverb "Time is money" should be taken seriously, you need to follow the timeline. Among so many shifting companies, those who respect time are respected and trusted automatically.
11. Professionalism
A level of dependency is obvious and the team of packers and movers is maintaining a standard of quality, efficiency, accuracy, and timeliness or not. And most important do they stick on to the deadlines given or not. All these points are counted in maintaining professionalism in the industry. They have to offer something better than the rest of the companies, as there is so much of competition in the market, a customer has many options that overall record of packers and movers company matter.
Read More: What To Do To Get Ready For Warehouse Storage With Household Goods?
12. Tracking and Reliability
Out of many companies of movers and packers that are offering a set of services should give a strong reason to pick the best one. The efficiency and precision of the team and the optimum use of time is an impressive trait all of them should adopt to make the company first preference from the customers.
In addition, to all the above factors talk to the team of packers of a specific and take a brief blueprint about their execution process and try to compare it with the rest of them. And you can always refer to online reviews from the customers and do some research on the background of the company. Discuss the basic safety measures and provision of an insurance policy if they have any.
As a customer, you can always demand the best of their services and ask for more additions if the situation demands more.
Apart from the above-mentioned points, you should know about the risk factors involved in the relocation process. The companies will never give you a scary outlook on the task to be completed. But you should know what are the possibilities of damage that you might have to face, whether you require complete insurance from the third party to keep all the goods safe while transportation. In case of fire damage or loss of property, the shifting company will never be the one who is responsible. It's always the client, who agrees upon all the terms and conditions of the packers and movers.
Though they are trained professionals in their work and rarely face any extreme condition of losing the items being transported or an unreasonable delay to reach out to far-flung places. But still one has to be a bit realistic and stay on the safer side. To avoid any kind of disagreement, it's better to keep things sorted in advance and opt for insurance of at least expensive items such as electronic goods television, refrigerator, washing machine and other costly home appliances.
Also Read : 5 Or 18% GST Rates Stated On Packers And Movers in India