Expert movers offer a variety of extra services to make your move simpler in addition to having the knowledge and tools necessary to carry your items safely. An expert moving company can offer you the help and assistance you require to have a seamless and stress-free relocation, from packaging to specialty item management and storage alternatives.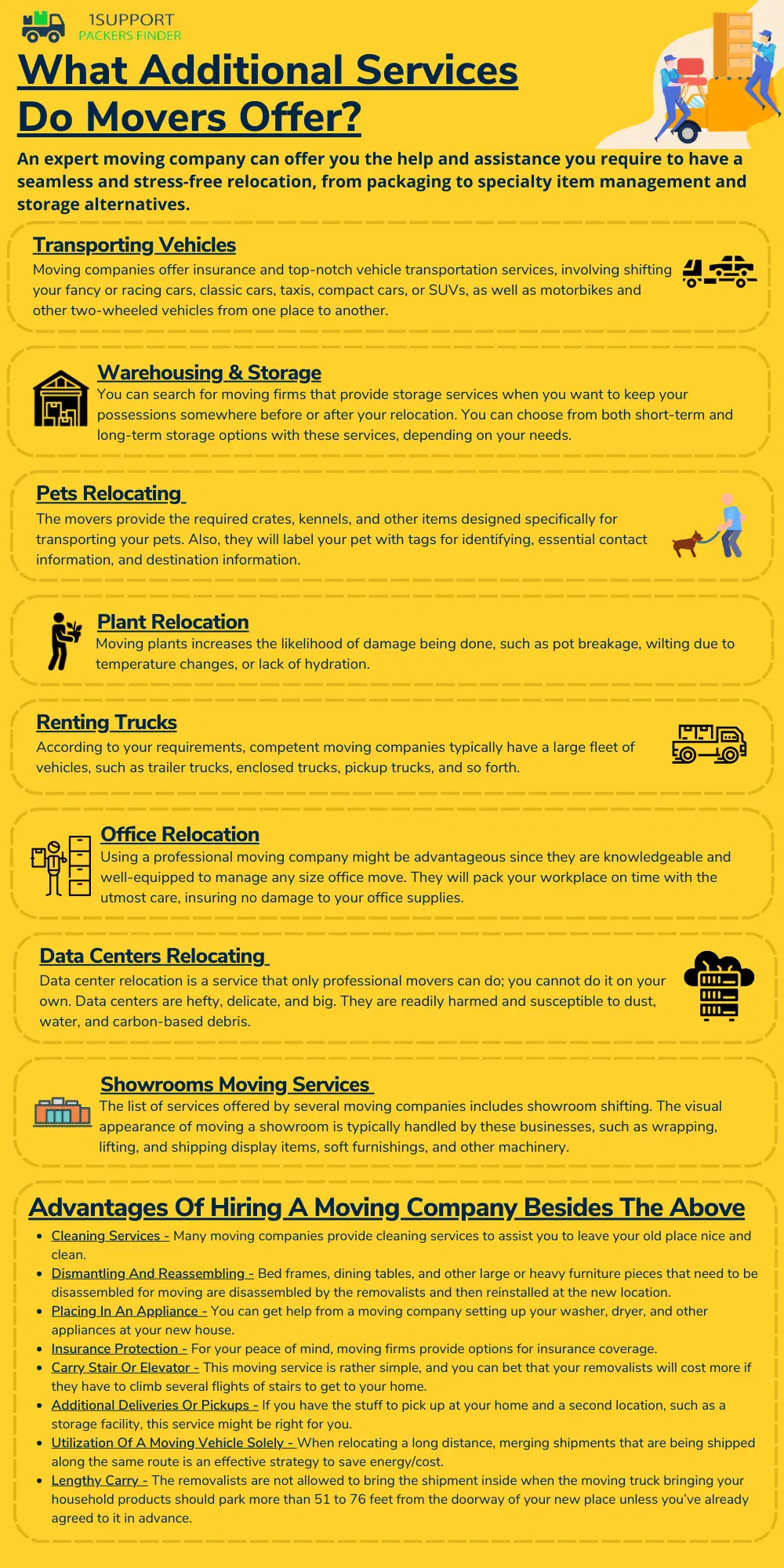 You may choose the best moving company for your needs by reading this blog post to gain a better concept of the different additional services that an established moving company can provide.
1. Service For Transporting Vehicles:
Moving companies offer insurance and top-notch vehicle transportation services, involving shifting your fancy or racing cars, classic cars, taxis, compact cars, or SUVs, as well as motorbikes and other two-wheeled vehicles from one place to another.
Moving companies use top-of-the-line tools and materials to deliver rapid, damage-free relocation services. You will be able to choose the best mode of transportation from a range of carrier options driven by skilled drivers.
2. Warehousing & Storage:
You can search for moving firms that provide storage services when you want to keep your possessions somewhere before or after your relocation. Some moving companies collaborate with different storage businesses. You can choose from both short-term and long-term storage options with these services, depending on your needs.
They provide insured, climate-controlled storage areas, among other facilities, at reasonable prices, and guarantee the entire protection of your goods. Following the storage period, they deliver your belongings to your door. To make sure none of your stuff is missing, you can double-check the items.
3. Services For Relocating Pets:
The movers provide the required crates, kennels, and other items designed specifically for transporting your pets. Also, they will label your pet with tags for identifying, essential contact information, and destination information.
4. Services For Plant Relocation:
Moving plants increases the likelihood of damage being done, such as pot breakage, wilting due to temperature changes, or lack of hydration.
Experienced plant relocation experts have all the tools and know-how needed, as well as the experience and expertise to handle and move any kind of plant. They are carefully transported to the new place, regardless of whether they are interior plants, garden plants, etc.
5. Services For Renting Trucks
According to your requirements, competent moving companies typically have a large fleet of vehicles, such as trailer trucks, enclosed trucks, pickup trucks, and so forth.
6. Services For Office Relocation:
Using a professional moving company might be advantageous since they are knowledgeable and well-equipped to manage any size office move.
They will pack your workplace on time with the utmost care, insuring no damage to your office supplies.
7. Service For Relocating Data Centers:
Data center relocation is a service that only professional movers can do; you cannot do it on your own. Data centers are hefty, delicate, and big. They are readily harmed and susceptible to dust, water, and carbon-based debris. Relocating data centers entails physically transferring servers, storage devices, networking hardware, and other elements.
Because they have trained and experienced movers to conduct the move, working with a professionally accredited moving company can be advantageous.
8. Moving Services For Showrooms:
The list of services offered by several moving companies includes showroom shifting. The visual appearance of moving a showroom is typically handled by these businesses, such as wrapping, lifting, and shipping display items, soft furnishings, and other machinery. They also frequently have the workforce and knowledge to do so.
Certain moving services for showrooms might additionally include other services like helping with management and scheduling, setting up furniture and displays in the new showroom, etc.
Advantages Of Hiring A Moving Company Besides The Above:
Cleaning Services:
Many moving companies provide cleaning services to assist you to leave your old place nice and clean. Relocating out of a place of residence can be messy work. To assist you in settling in, some might even provide cleaning services for your new residence.
Dismantling And Reassembling:
Bed frames, dining tables, and other large or heavy furniture pieces that need to be disassembled for moving are disassembled by the removalists and then reinstalled at the new location. Nearly all of them undertake it for a fee, even if they don't.
Placing In An Appliance:
It can be challenging to find out how to connect your huge appliances if you lack installation experience or have misplaced the documentation. You can get help from a moving company setting up your washer, dryer, and other appliances at your new house.
Insurance Protection:
For your peace of mind, moving firms provide options for insurance coverage. While some businesses provide complete coverage, others just provide minimal insurance as a portion of their moving packages and charge separately for additional coverage.
Carry: Stair Or Elevator:
This moving service is rather simple, and you can bet that your removalists will cost more if they have to climb several flights of stairs to get to your home. If they require to use an elevator, there will be an extra charge. Moving is a difficult effort, and stairs (or elevators) make it even more difficult.
Additional Deliveries Or Pickups:
If you have the stuff to pick up at your home and a second location, such as a storage facility, this service might be right for you. You could also need to store excess furnishings somewhere else if you're downsizing from a five-bedroom house to a two-bedroom residence. For an additional cost, your moving company can manage either situation.
Utilization Of A Moving Vehicle Solely:
When relocating a long distance, merging shipments that are being shipped along the same route is an effective strategy to save energy/cost. You will be billed an additional fee for the entirely separate use of the moving vehicle sometimes when you choose to have your household items shipped independently so that you can obtain them on a delivery confirmation day (and also minimize the chance of your possessions being missed or broken during the countless checkpoints and rearrangements of goods inside the vehicle).
Lengthy Carry:
The removalists are not allowed to bring the shipment inside when the moving truck bringing your household products should park more than 51 to 76 feet from the doorway of your new place unless you've already agreed to it in advance.
Consider the "long move" choice only when you wish the moving team to handle this task for you. This choice is based on how far the movers must take your cargo from the moving truck to your home.
Make sure to book a parking space in front of your new home for the scheduled delivery time to avoid such a tough problem.
You can tailor your relocation to suit your unique requirements and financial constraints by selecting a moving company that provides a range of additional services. We have highlighted a few more services that a reputable moving company provides in this article.
Before selecting a choice, make sure to inquire about all of your possibilities, and don't be hesitant to bargain for the services that are most essential to you. You can move without stress and settle in quickly if you have a seasoned removalist on your side.
Frequently Asked Questions On Additional Services Do Movers Offer
1. What Does Full-Service Moving Assistance Entail?
Full-service moving assistance is another term for complete or all-inclusive moving assistance. Professional movers frequently refer to their assistance as "full service," meaning they can assist you with all aspects of your relocation, from lifting and wrapping to shipment and above.
2. What Tasks Do Movers Perform?
Any heavy things will be disassembled by movers. All tables, desks, cabinets, and other items that may be disassembled for shipment will be put back together once you arrive. Unload after loading. Your items will be organized and packed by movers to ensure safe shipment.
3. How Much Do Extra Services In India Cost?
As competent packers and movers offer so many extra services to their clients, it is very challenging
for them to determine the final precise cost before everything is agreed upon by both parties. Charges are set by creating an exhaustive estimate of everything and then being adjusted based on the service you choose.