It might be challenging to choose the proper truck size for moving your house or place of business. Fortunately, many moving truck rental businesses make this easy by offering online moving calculators to help you discover the correct size truck, organize your heavy items, and decide how to best fit them into the cargo area.
This article will offer you a general outline of the things you should take into account before actually renting a truck, the many truck types you may book for a DIY move depending on your shifting demands, the factors determining truck rental pricing, and so forth.
An Overview:
Just as crucial as carefully loading your truck is choosing the appropriate moving truck size. Whatever you store inside your truck may be in danger when it is of improper size, whether it is huge or small. Additionally, renting a bigger truck will cost more money than renting a smaller one, so keep your budget in mind as well.
What you require is the ideal truck. Take an inventory of everything you're transporting and estimate how much room it will occupy before determining the best truck size. The next step is to look around for the best storage capacity in a vehicle.
To select the ideal truck size for your relocation, continue to read to acquire all the advice and resources you require.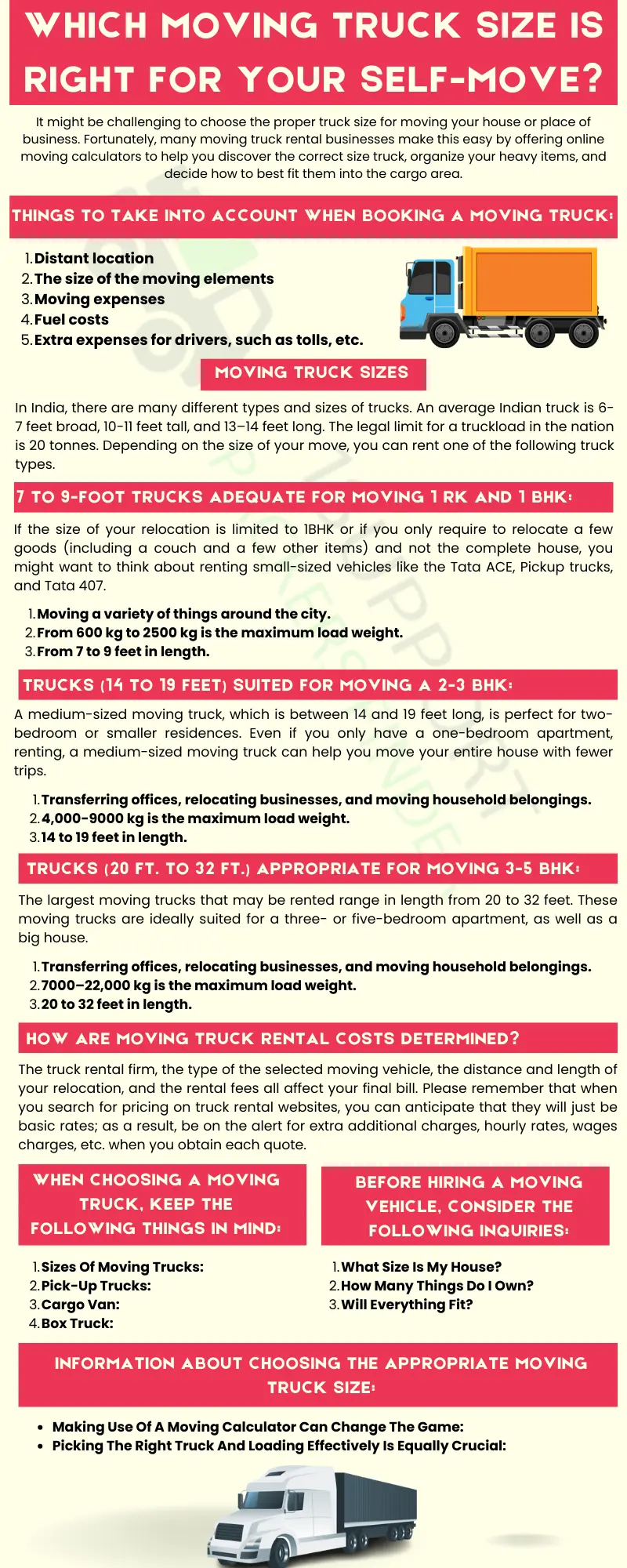 Things To Take Into Account When Booking A Moving Truck:
Understanding the scope of your move is essential before selecting the right size truck, along with other criteria like:
Distant location
The size of the moving elements
Moving expenses
Fuel costs
Extra expenses for drivers, such as tolls, etc.
How Do You Choose A Good Truck Out Of All The Different Truck Kinds And Moving Options?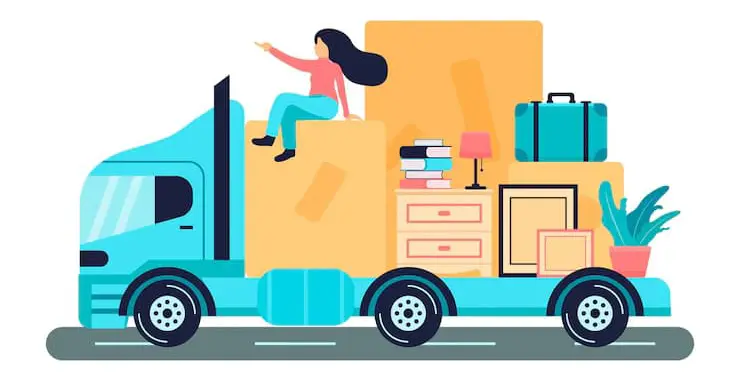 In India, there are many different types and sizes of trucks. An average Indian truck is 6-7 feet broad, 10-11 feet tall, and 13–14 feet long. The legal limit for a truckload in the nation is 20 tonnes. Depending on the size of your move, you can rent one of the following truck types.
7 To 9-Foot Trucks Adequate For Moving 1 RK And 1 BHK:
If the size of your relocation is limited to 1BHK or if you only require to relocate a few goods (including a couch and a few other items) and not the complete house, you might want to think about renting small-sized vehicles like the Tata ACE, Pickup trucks, and Tata 407.
Suitable for:
Moving a variety of things around the city.
From 600 kg to 2500 kg is the maximum load weight.
From 7 to 9 feet in length.
Trucks (14 To 19 Feet) Suited For Moving A 2-3 BHK:
A medium-sized moving truck, which is between 14 and 19 feet long, is perfect for two-bedroom or smaller residences. Even if you only have a one-bedroom apartment, renting, a medium-sized moving truck can help you move your entire house with fewer trips.
Suitable for:
Transferring offices, relocating businesses, and moving household belongings.
4,000-9000 kg is the maximum load weight.
14 to 19 feet in length.
Trucks (20 Ft. To 32 Ft.) Appropriate For Moving 3-5 BHK:
The largest moving trucks that may be rented range in length from 20 to 32 feet. These moving trucks are ideally suited for a three- or five-bedroom apartment, as well as a big house.
Suitable for:
Transferring offices, relocating businesses, and moving household belongings.
7000–22,000 kg is the maximum load weight.
20 to 32 feet in length.
How Are Moving Truck Rental Costs Determined?
The truck rental firm, the type of the selected moving vehicle, the distance and length of your relocation, and the rental fees all affect your final bill. Please remember that when you search for pricing on truck rental websites, you can anticipate that they will just be basic rates; as a result, be on the alert for extra additional charges, hourly rates, wages charges, etc. when you obtain each quote.
When you have all of this knowledge, you can compare your options and confidently decide on renting a truck for your do-it-yourself move. Before actually renting a moving truck, begin to examine the costs of vans from various vendors while keeping your budget in mind.
Before Hiring A Moving Vehicle, Consider The Following Inquiries: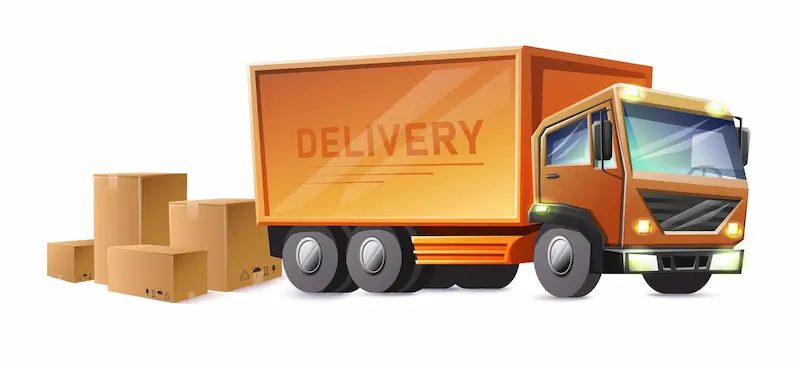 What Size Is My House?
The strongest sign of the moving truck you should book is frequently the size of your property. In reality, a lot of moving firms offer their rental trucks along with the general size of the house they are best suited for. Look into the appropriate capacities for various truck sizes to see whether they will work for your property.
How Many Things Do I Own?
The room estimations provided on websites for rental trucks are a smart place to start. However, it's also crucial to take into account how many possessions you have before renting a truck.
If you identify yourself as a maximalist, you probably require a larger truck to accommodate all of your possessions. If you only use two of the bedrooms in your three-bedroom house, you might be able to choose a smaller moving van.
Will Everything Fit?
It's a good idea to consider the size and shape of your possessions after you've established how many of each you have. You might want to rethink your moving strategy if you have an excess of heavy or fragile objects.
By How Much Am I Traveling?
If you want to stay put, you might be able to make several trips between properties using the same moving truck. A smaller (and less expensive) rental might be your best choice in this situation.
Therefore, a big truck is your top choice if you have to move across time zones. Except if you don't mind making repeated trips.
Information About Choosing The Appropriate Moving Truck Size: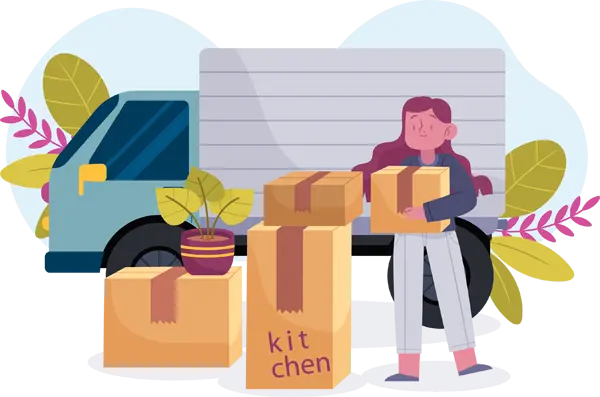 It might seem like a no-brainer to rent a truck and move if you have time, resources, and DIY inclination. Especially if doing so results in significant financial savings and gives you more control over the task than engaging full-service moving companies would. Receiving the correct size truck for the task, however, is a crucial component that could improve or shatter your relocation experience.
Making Use Of A Moving Calculator Can Change The Game:
The best approach to choosing what to rent may not be to compare moving truck sizes only on existing square footage or bedroom count. After all, some people can fit a lot more into 1,000 square feet of homes than others. To calculate the size of the truck you require, it can occasionally be good to utilize a moving calculator.
This tool can be found on numerous moving websites. On some, you can even choose the specific things you're moving from a list to get a more accurate estimate of the size of the truck you'll require.
Picking The Right Truck And Loading Effectively Is Equally Crucial:
Even the largest truck in the lot won't hold all of your belongings if you arrange it the way most individuals prepare luggage for a weekend getaway. Preparation is required for effective, secure, and simple loading.
Utilize sturdy packaging supplies, such as brand-new boxes and plastic containers. When possible, disassemble larger objects like bed frames and tables. Pack your belongings firmly to prevent movement.
When Choosing A Moving Truck, Keep The Following Things In Mind:

Sizes Of Moving Trucks:
Pickup trucks, cargo vans, and box trucks are the three primary rental vehicles kinds that can assist you with your relocation.
Pick-Up Trucks:
Pickup trucks work well for quick local transfers involving just a few large items of furnishings, such as a couch and a dining table. The goods and electronics in the truck can be taken, and you can load carrying cases into your car. Pickup trucks are accessible for rent at several hardware stores in addition to the usual truck rental locations.
Cargo Van:
Although cargo vans may not appear to be very large from the outside, you might be astonished by how much can fit inside. Most of your possessions might fit in a cargo van if you're relocating to a studio apartment, college dorm, or even a tiny one-bedroom apartment.
Box Truck:
The majority of individuals see box trucks when they use the term "moving truck." These are the self-moving industry's actual heavy hitters, and they frequently work just fine for many relocations, particularly long-distance ones.
The kind of truck you should rent for transportation depends on how big your home is and how many items you want to move. By explaining your moving needs to the truck rental firm, you can also ask them to choose the appropriate-sized vehicle. This method allows you to receive better-suited trucks with less work.
To find the ideal vehicle to fit all of your possessions for a do-it-yourself move, you may also use online moving calculators. Therefore, hiring a moving company from the 1Support digital portal is the ideal option for moving. Get moving now because you have the information you require!