A moving estimate is a rate quotation that provides an approximate moving cost based on specific moving-related information. Your comfort of mind is greatly influenced by the kind of estimate your moving companies provide. You should have faith in your movers and the estimated cost.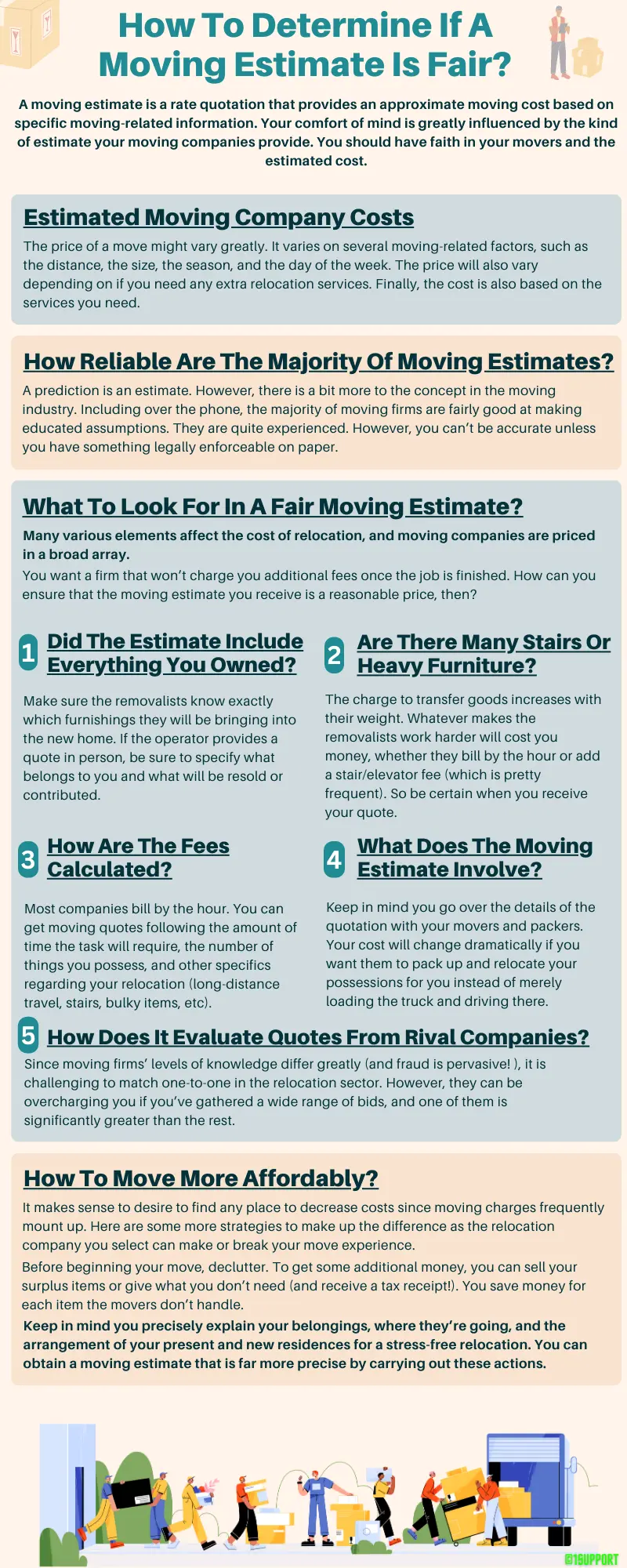 You must give any estimator a detailed inventory of all your belongings to speed up the procedure. Keep in mind the estimator is aware of every item you intend to transport, including any particularly big or heavy items you may have gathered.
When you have additional items in your basement, storage, or yard, let your assessor know as well.
Estimated Moving Company Costs:
The price of a move might vary greatly. It varies on several moving-related factors, such as the distance, the size, the season, and the day of the week. The price will also vary depending on if you need any extra relocation services. Finally, the cost is also based on the services you need.
We provide a wide range of services, from a full-service relocation that includes wrapping and unpacking to straightforward truck hire. Although it costs a little more, a full-service move is relatively stress-free.
How Reliable Are The Majority Of Moving Estimates?
A prediction is an estimate. However, there is a bit more to the concept in the moving industry. Including over the phone, the majority of moving firms are fairly good at making educated assumptions. They are quite experienced. However, you can't be accurate unless you have something legally enforceable on paper.
An estimate is purely for comparison purposes. Whenever you make a decision, you'll undoubtedly take into account at least a few moving businesses. Additionally, your estimations help you determine which businesses charge what amounts for specific services. Make sure your comparisons are correct because not all movers are created equal.
Significantly Enhance The Estimation:
Relocation can be a complex undertaking. Before providing a legally binding quotation, the majority of movers demand an in-home visit, which is just fair. And before you get there, you'll undoubtedly gather some non-binding estimates to use as benchmarks.
A precise comparison is the most vital step in the estimation process. Wonderful service or even the same level of service from one organization does not necessarily imply good support from another. Check for omissions, such as an additional fee for unloading your products at the location, by carefully reading all the details available.
Movers Provide A Variety Of Estimates:
There are non-binding and binding estimates in the relocation field. A non-binding estimate isn't fixed in rocks, as the titles suggest. Furthermore, a legally binding estimate gives you security regarding the expense of relocation.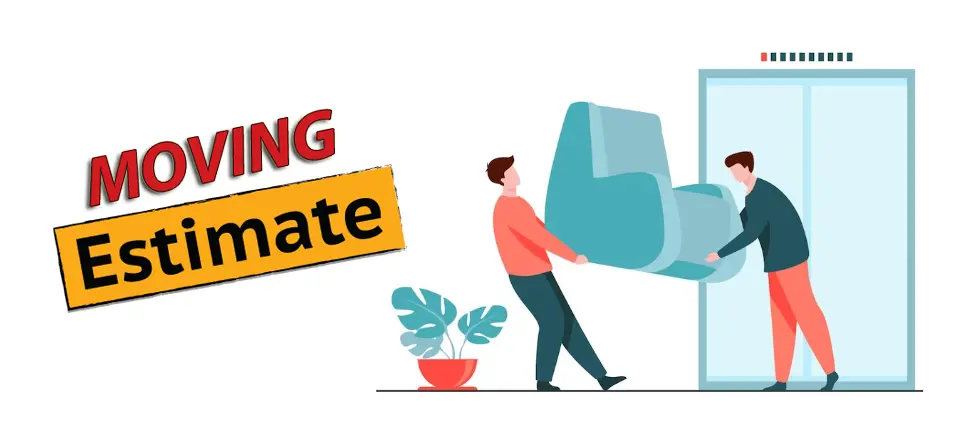 A non-binding estimate is frequently provided over the phone, though some may be made available online. The number of rooms in your house, the types of furniture you own, and whether or not there are any specific obstructions, such as a staircase, will all be taken into consideration. When further information regarding the migration becomes available, this estimate may need to be adjusted.
An agreed-upon flat cost is included in a binding estimate for your relocation. Since these movers visit you and physically inspect your things and location, it is more reliable. It fills in any holes left by a phone-issued estimate and offers you a far clearer picture of the whole cost, but some movers also include a safety net for unanticipated incidentals of a specific percentage.
What To Look For In A Fair Moving Estimate: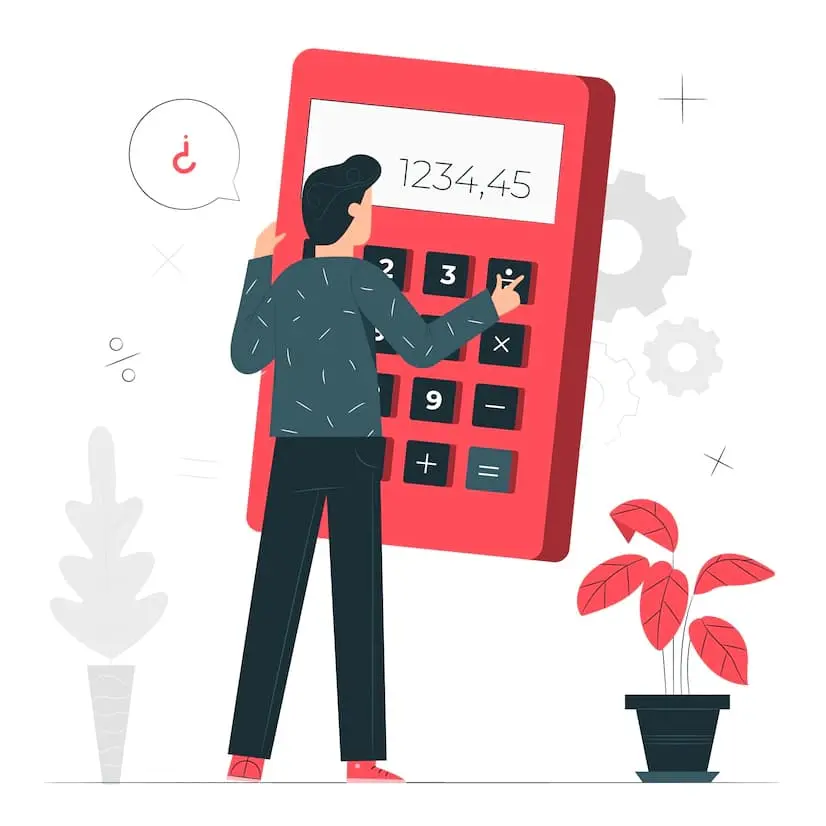 Many various elements affect the cost of relocation, and moving companies are priced in a broad array.
You want a firm that won't charge you additional fees once the job is finished. How can you ensure that the moving estimate you receive is a reasonable price, then?
Fortunately, you can determine whether a moving company is giving you a reasonable price based just on the estimate. When you get a moving estimate, consider the following five questions.
Did The Estimate Include Everything You Owned?
An appropriate moving estimate is an initial stage to an excellent one.
Make sure the removalists know exactly which furnishings they will be bringing into the new home. If the operator provides a quote in person, be sure to specify what belongs to you and what will be resold or contributed.
When providing information for the quote over the phone or online, be as complete and precise as you can when describing the furnishings, space, approximate number of people residing in your home, etc. Additionally, you should specify whether they are lifting items upstairs or downstairs or whether there are many floors.
Underestimating the workload your operators will face will merely give the impression of a very inexpensive quote. The total cost will be significantly greater after the (much larger) job is finished.
Are There Many Stairs Or Heavy Furniture?
The charge to transfer goods increases with their weight. Whatever makes the removalists work harder will cost you money, whether they bill by the hour or add a stair/elevator fee (which is pretty frequent). So be certain when you receive your quote.
How Are The Fees Calculated?
Policies regarding client charges vary amongst businesses.
Most companies bill by the hour. You can get moving quotes following the amount of time the task will require, the number of things you possess, and other specifics regarding your relocation (long-distance travel, stairs, bulky items, etc).
Some companies might bill following the volume of your relocation or the number of rooms in your house. Comparing quotes is easier by obtaining this data from a company in advance.
What Does The Moving Estimate Involve?
Keep in mind you go over the details of the quotation with your movers and packers. Your cost will change dramatically if you want them to pack up and relocate your possessions for you instead of merely loading the truck and driving there.
It's critical to review the itemized list and confirm your agreement with the moving provider. There can be a charge for extra insurance coverage.
Inquire regarding any other modest fees that might accrue. Being upfront about any surcharges is acceptable, but some businesses could try to tack on fees at the last minute.
How Does It Evaluate Quotes From Rival Companies?
Since moving firms' levels of knowledge differ greatly (and fraud is pervasive! ), it is challenging to match one-to-one in the relocation sector. However, they can be overcharging you if you've gathered a wide range of bids, and one of them is significantly greater than the rest.
You must be wary of moving projections that are too low, though. Many businesses would first offer clients reduced prices only to tack on a huge number of extra fees afterward. You end up going considerably over budget by the time the move is already over.
Look for a company that explicitly presents itself as having no hidden costs. Verify that the figure you see on their paper corresponds to the amount you'll see when the job is finished by going over the list of what the quote contains and asking about any unforeseen costs (fuel, stairs, elevators).
How To Move More Affordably: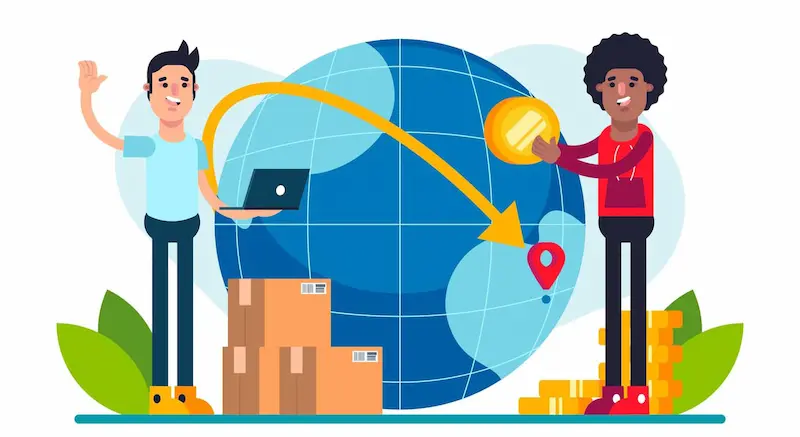 It makes sense to desire to find any place to decrease costs since moving charges frequently mount up. Here are some more strategies to make up the difference as the relocation company you select can make or break your move experience.
To be sure you're hiring a respectable firm, compare moving estimates from other businesses and read reviews. We like to suggest three or more quotations. Consider customer feedback for each firm before choosing.
Before beginning your move, declutter. To get some additional money, you can sell your surplus items or give what you don't need (and receive a tax receipt!). You save money for each item the movers don't handle.
Choose between doing the packing yourself or calling a removal company: Although it is less expensive to carry your goods, don't forget to account for the cost of repairing any things that may be broken in shipment. Professionals are adept at packing materials.
In the off-season, relocate. Opt for a different season when you can because summer is the busiest time for relocation. If you must relocate during the summer, attempt to do so during the week rather than on the weekend to get a better deal.
The last stage of moving is transporting your possessions from point A to point B. You do not wish to spend more than a reasonable market price for such an advantageous service, even though it might only cost a fraction of what you previously spent on improvements, realtor charges, and closing costs.
Keep in mind you precisely explain your belongings, where they're going, and the arrangement of your present and new residences for a stress-free relocation. You can obtain a moving estimate that is far more precise by carrying out these actions.